arvato return to CSL to upgrade handling systems
As the exclusive distributor for some of the worlds leading international entertainment music brands, arvato has become the UK's largest music distributor over the last three years. In 2010, arvato distributed more than 100 million CDs and DVDs across the UK.
Once again, having successfully worked with arvato in the past, Conveyor Systems Ltd (CSL) were awarded a further contract to upgrade and improve the existing materials handling system that CSL had installed several years ago at the Milton Keynes DC. arvato also asked CSL to consider ways of optimising on available space within the warehouse.
The process commences with orders being raised for manual picking from live carton storage to be transported by trolley and placed on to a packing table attached along the length of a transit conveyor. Here, orders are packed into a choice of several different 'crash base' boxes, to which a 'peel off' order label is attached and the box is then pushed back onto the conveyor.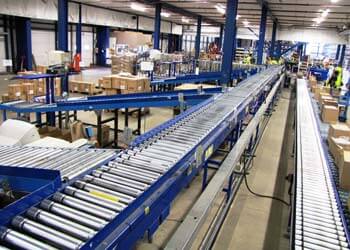 Need advice on the best solution for your project?
Call us to discuss your requirements, we're always on hand to help.
+44 (0)1283 55 22 55
The boxes are conveyed via a check weigher, high security strapper and finally, identified by a bar code reader to be sorted into twelve lanes by chain transfers for manual palletising. Alternatively, boxes can be manually loaded on to vehicles for despatch using telescopic boom conveyors. Since the above system changes were completed, CSL have been back on site to relocate an entire conveyor system to free up space and create an additional 340sq.m of floor space. Also, they have installed three individual metering belts to provide accumulation and controlled flow of boxes into a weigh check unit.
Markus Schmuecker, Managing Director of Supply Chain Solutions, arvato commented, "After many years on site, the CSL system was still serviceable and they replaced all intensively used units and compartmentalised the system to take up minimum space.
They worked as part of the team, using their knowledge and experience as system integrators to provide us with the most professional, cost effective and operational efficient solution to meet arvato's individual handling needs."