Case Study – NEW 'Super Grip' slat-spiral elevator/lowerator from CSL
Conveyor Systems Ltd premiered the latest designed 'Super Grip' slat-spiral elevator/lowerator at the IMHX 2013 exhibition. The latest space saving, compact column spiral conveyor can provide a smooth, continuous high throughput and flow of product vertically to/from different floor levels.
When differences in height create material handling difficulties and where the use of inclined belts conveyors and elevators are restricted by space available, the simplicity of a spiral conveyor makes them a reliable and economic alternative, with many advantages over conventional methods.
The unique Super Grip belt enables the transport of most products up steep inclines without slippage due to the inclusion of friction pads that cover more than 60% of the belt top, exceeding 10 times the area covered by ordinary spiral belts. The new spiral elevator/lowerator is engineered into a lean logistic design and with an increased incline reducing the belt length this contributes to cost savings.
CSL's spiral conveyors small 'footprint' saves valuable floor space, and can carry a constant flow of products to or from almost any height. With only 1 drive required per 7m. the units are energy efficient and therefore, this contributes to further cost saving.
They can be manufactured in mild steel, with intermediate corrosion resistant finish or in the ultimate, hygienic stainless steel. Versatile, simple to operate and maintain, spiral elevators can transport most things from small cartons, tubs, boxes, totes, crates, shrink wrapped trays through to drums and sacks. Their compact construction also makes them ideal for applications where off-line buffering between packaging and palletising is required, or a time delay is necessary to integrate with other end of line equipment or to balance production throughput.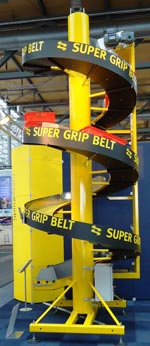 Need advice on the best solution for your project?
Call us to discuss your requirements, we're always on hand to help.
+44 (0)1283 55 22 55
Catering for modern packaging and logistic systems
Super Grip IMHX 2013Twin lane reversible spirals are also available to cater for modern packaging and logistic systems, operating in dual lanes between different floor levels, with each lane being controlled independently and capable of running in opposite directions at differing speeds if required.
Spiral conveyors do not need complex synchronization which results in greatly increased handling capacity as compared to other conventional lift systems.
The same technology involved in spiral elevators is also used in a conveyor format for system solutions and supplied in mild steel, aluminium or stainless steel. Simple to integrate and with only one motor driving long sections of conveyor, these prove to be extremely energy efficient and versatile, whilst reducing the number of transfers and drives. A wide range of products can be transported on these flexible conveyors – around curves, up inclines and straight sections and with the slats being attached to a side flexing roller base chain, capacities up to 120 Kg/metre can be achieved.
CSL can advise on the technical suitability for product handling and supply full specification literature as required.