CSL continues association with Diageo at new Leven bottling hall
Work on the multi-million pound restructuring and expansion of the bottling facilities at the Leven site of the drinks giant Diageo is well under way and has involved long term supplier Conveyor Systems Ltd.
Work on the multi-million pound restructuring and expansion of the bottling facilities at the Leven site of the drinks giant Diageo is well under way and has involved long term supplier Conveyor Systems Ltd.
Appointed by the main contractor Krones UK Ltd, CSL was commissioned to design and supply a system to be housed in the new 21st century state-of-the-art bottling plant and convey empty boxes from automatic case erectors located in the Palletising Hall through to a number of lines in the Bottling Hall. Erected empty cases are transported via space saving spiral elevators, accessing the bottling hall through a wall and onto high level accumulating belt conveyors, feeding down to ergonomically designed manual packing tables or automated case packers to be filled with bottles. The use of overhead conveyors suspended from the ceiling in the bottling hall, enables optimisation of floor space whilst also ensuring safe clear access ways for both pedestrian and truck movements.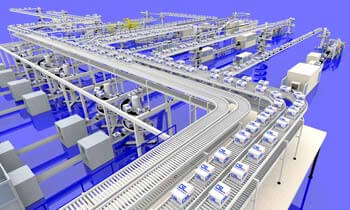 Diageo Leven Bottling HallAs the world's leading premium drinks business, Diageo has an outstanding collection of consumer recognised brands ranging across spirits, wines and beers. Therefore, CSL had to design a conveyor system that would provide for maximum flexibility both in handling commercial high-volume products whilst ensuring velvet smooth operation for products at the premium end of the market, involving a wide variety of cases including standard 6, 12 and even 48 small bottle packs. The system can also be operated in support of packing shorter-run products such as luxury branded bottles of spirits and classic malt ranges in more select volumes where presentation box lids are applied by hand to ensure that there is no risk of the premium product or its packaging being damaged in any way.
Having more than 25 years personal working association with Diageo, Steve Graham, Managing Director of CSL was fully involved with the conveying project from its concept and worked closely with the project team at Leven, along with major machinery suppliers which their system interfaces with. The system was designed to increase efficiency and throughputs, whist providing flexibility and non contact conveying and accumulation of the cases to avoid pressure thereby eliminating damage to cases/products in order to maintain the highest packaging standards.
Empty cases are fed into the bottling hall and accumulated to ensure packaging operations have a constant head of product before being lowered via spiral conveyors adjacent to the bottling line. On demand cases are fed by vertically adjustable luffing belts to either hand packing stations for low volumes or "specials", or directly through to automated packers. Some of the lines are fitted with tiered manual packing stations that were specially designed by CSL in conjunction with Diageo to provide infinite height adjustment whilst ensuring optimum ergonomic positioning for manual case packing.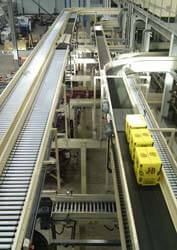 Need advice on the best solution for your project?
Call us to discuss your requirements, we're always on hand to help.
+44 (0)1283 55 22 55
Diageo Leven Bottling HallAfter packing, full cases are printed with an identification date and batch code to support product traceability passing through check-weighers and case gluers to securely and accurately seal the boxes. A "flap detector system" inspects the cases and in the rare event of a flap not being completely sealed, the case is routed off line to a reject station for securing and returning to the system.
Accuracy of full cases being conveyed is critical to the success of the system to facilitate positioning of identification codes, checking and sealing before transporting through to palletising. Various case sizes including the standard six and twelve bottle are handled, with selective cases requiring to be turned through 90° to ensure accurate pack orientation for presenting the finished product in the ideal plane either long side or short side for automatic coding. This was successfully achieved by integrating twin speed, multi-slat conveyors to provide a smooth controlled braking and slewing action to turn the cases. By inverter control from remote HMI panels, the multi-slat conveyor speed can be changed when necessary to feed cases straight through without turning for long face coding.
Diageo Leven Bottling HallManaging Director of Conveyor Systems Ltd – Steve Graham stated, "In principle the turning concept is simple, but in practice, the expertise in balancing slat speeds to ensure continuous and accurate presentation of various cases at high speed, particularly when turning from short to long edge leading, is an 'engineering art' developed over many years."
Full bottle cases are conveyed up spiral elevators, which to date total 54 as part of the various systems installed throughout the Diageo group in Scotland, onto high level conveyors to transfer back to the new warehouse and to the palletisers. The conveyors entering the warehouse are grouped together and mounted onto multi-tier supports in order to provide good platform walkway access and for maintenance to each line feeding the multiple palletisers on an 'on- demand' basis.
Accumulation zones are used to create a train of products to provide controlled feed from pairs of conveyors each feeding a Krones RoboBox palletiser, thereby whilst one lane feeds the palletiser, the second can be accumulating over a pallet load of cases with non-contact queuing for the following load.
The complete project from design through to commissioning with full control systems including ASI and Profibus communications was handled by Conveyor Systems Ltd and installed in multiple phases to Diageo's requirements in order to minimize disruption at the facility during peak demand.
"The final line of the Contract is on course and to be commissioned Spring 2012" reported Steve Graham at CSL. "The new end-of-line system at Leven provides the Diageo group with a highly efficient and flexible packaging operation, which can respond quickly to future changing demands and opportunities. We take great satisfaction in both being awarded this contract and being part of this successful project and seeing a Greenfield site transform into what will be a showpiece facility for many years to come".