CSL provide a wheelie successful transfer between floor levels
The component division of a leading German automobile manufacturer awarded Conveyor Systems Ltd (CSL) a contract to improve the efficiency in transferring car wheel assemblies between ground and mezzanine floor levels, as the existing vertical platform elevator was both slow and proving to be unreliable.
CSL's accepted proposal was to replace an existing vertical elevator with an 11 metre long 25° degree heavy duty, automotive standard, inclined belt conveyor fitted with grip top belting. This rises to a height of 3.5m, feeding onto the mezzanine floor and integrating into an existing conveying system handling full wheel assemblies (tyre & wheel).
To get a smooth transfer from the top of the incline and to interface with the existing horizontal conveyor, a 3 metre horizontal belt section was incorporated along with a "soft" curve to avoid product slip.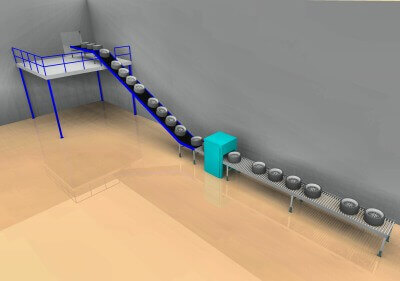 Need advice on the best solution for your project?
Call us to discuss your requirements, we're always on hand to help.
+44 (0)1283 55 22 55
The wheel assemblies weigh approximately 25kilo and to provide a safe and controlled flow of product whilst minimizing drag, the 750mm wide inclined belt conveyor was fitted with high level roller side guides. The inclined conveyor is fed by a powered conveyor at ground level, which incorporates an existing wheel assembly scanning device for checking of both bar codes and that the wheels are in the correct sequence to interface with the rest of the system on the vehicle assembly line.
To coincide with both indexing and the existing line speed, the conveyor was fitted with speed variation and as it could be fully loaded, the use and operation of a braked motor when stationary was an important feature to ensure there was no risk of "roll back"
The new conveyors system was designed  to allow for future increase in throughputs, but initially, easily coping with the current 250 wheels per hour.
A spokes person reported, "CSL provided  us with a very cost effective proposal that fully met our criteria and has achieved improved efficiencies and throughput. Since installed, the system has operated with total reliability and was completed on time and within budget."