Easy-Clean Solution Boosts Pizza Delivery
When a producer of fresh chilled foods needed a product handling system that would transfer individual or stacked pizza film wrapped bases between high and low care food quality areas Conveyor Systems Ltd (CSL) was awarded the contract.
In a high risk area located on the first floor, conveyors had to interface with two film wrappers and carry pizza bases downwards, via an overhead conveyor in a high care area and into a low care ground floor packing hall.
CSL designed a modular plastic matt declining conveyor, fitted with FDA-approved high friction gripper inserts to prevent the film wrapped bases slipping during their decent.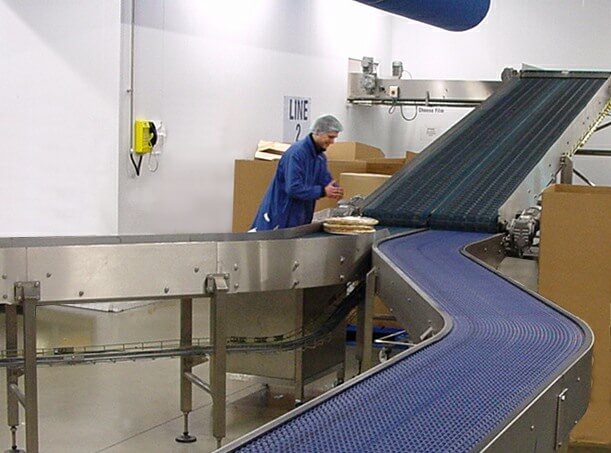 The conveyor was constructed in food quality stainless steel, with a single frame carrying two lanes of modular matt conveyor to provide maximum flexibility.
In the high care area, the matt conveyor continued in a long overhead run, with high level strengthened supports to ensure an open operating environment with minimum obstructions to workflow and access.
At the end of this span, the film wrapped pizza bases are conveyed through a wall and down a decline into the 'low care' packaging hall.
At floor level, the single frame conveyor splits to feed two, two-tier packing station.
The system meets the high hygiene standards demanded by the customer and provides for easy cleaning and wash down. Stainless steel baskets support all cables and CSL supplied electrical controls and PLC panel to specified standards. 
For more information on modular matt top conveyors please click here

Need advice on the best solution for your project?
Call us to discuss your requirements, we're always on hand to help.
+44 (0)1283 55 22 55