Interfloor Conveyor system for Ingram Micro
Ingram Micro Commerce & Lifecycle Services, Northampton DC
As the world leader in logistics, commerce enablement, and device lifecycle services, Ingram Micro Commerce & Lifecycle Services plays a pivotal role in bridging supply and demand. Through a wide spectrum of services, ranging from cross-border fulfilment, returns management, to IT asset disposition, this global entity facilitates growth, augments ROI, and safeguards clients' interests.
Ingram Micro caters to a diverse customer base — from emerging brands to Global 2000 enterprises — fueling their success through an expansive warehousing network, cutting-edge technology, strategic alliances, and decades of industry experience.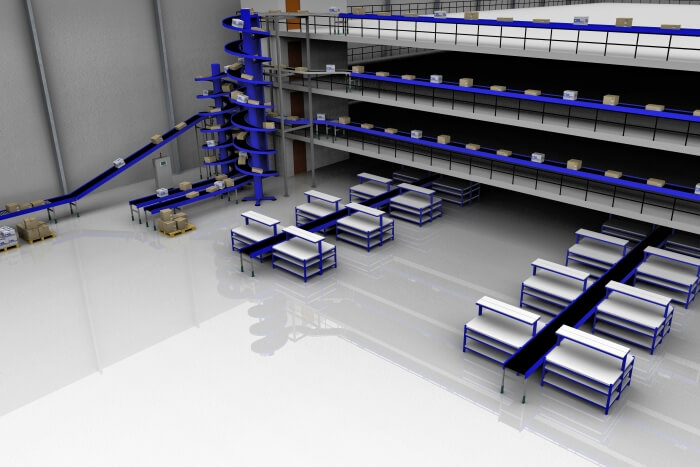 The Challenge: Streamlining Operations in Daventry
For its Daventry operation, Ingram Micro sought a system that would seamlessly integrate the packing and dispatch process while optimising space with a new three-tier mezzanine. The challenge was to manage boxes, cartons, and poly bags from all three levels, consolidating them on the ground floor before dispatch.
This ground-floor operation would function independently, utilising standalone conveyors. Furthermore, the system needed to be reversible to accommodate replenishment and alternative operations, requiring each line to have three distinct operating functions.
A Tailored Solution: Simple Yet Effective
After careful consultation and design deliberation, the winning strategy was a blend of simplicity and functionality. Each mezzanine floor system operated autonomously but was regulated through a central control panel. This approach minimised risk, simplified operations, and ensured flexibility during scheduled maintenance.
The ground-floor packing belt conveyors were equipped with their standalone control box. Tried-and-tested equipment and designs formed the core of this solution, drawing from the success of previous installations.
Incorporating Uniqueness: Different Needs for Different Levels
The second and third levels, designed to handle all product types, including poly bags, featured a 20m long packing conveyor belt feeding onto a compact AmbaFlex Ambaveyor slat conveyor. The product range then reached the ground floor through an AmbaFlex Spiral, offering a small footprint.
The first level catered only to cartons and totes, employing a 20m packing conveyor belt that led to some powered roller conveyor. Given the available space, a decline belt conveyor was ideal for transferring products to the ground floor.
All three levels used sections of the conveyor that sat off the mezzanine floor, necessitating a multi-tier support structure that incorporated all levels.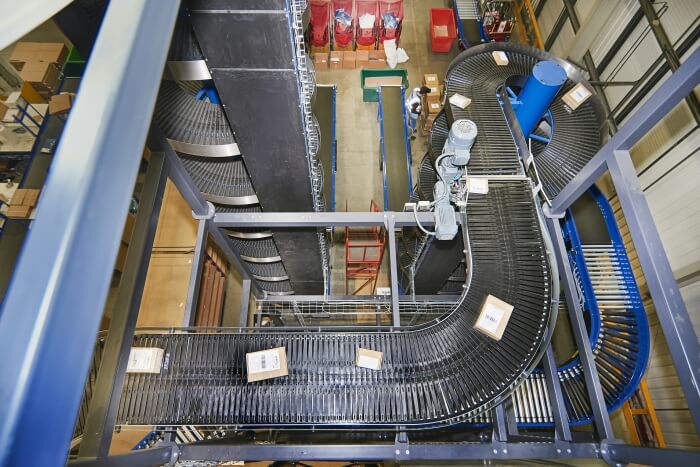 Multipurpose System: Three Modes for Maximum Efficiency
In line with Ingram Micro's requirements, the system operated in three modes: decline to dispatch, reverse incline for stock replenishment, and a back-up mode for clearing the line into wheeled magnums during system issues.
Reflecting on the project, a spokesperson from Ingram Micro praised the new system for meeting their requirements, predicting that the benefits—increased throughput and reduced operating costs—would soon materialise.

Need advice on the best solution for your project?
Call us to discuss your requirements, we're always on hand to help.
+44 (0)1283 55 22 55