Multifloor Dispatch Warehouse Conveyor for SGS Engineering's brand new NDC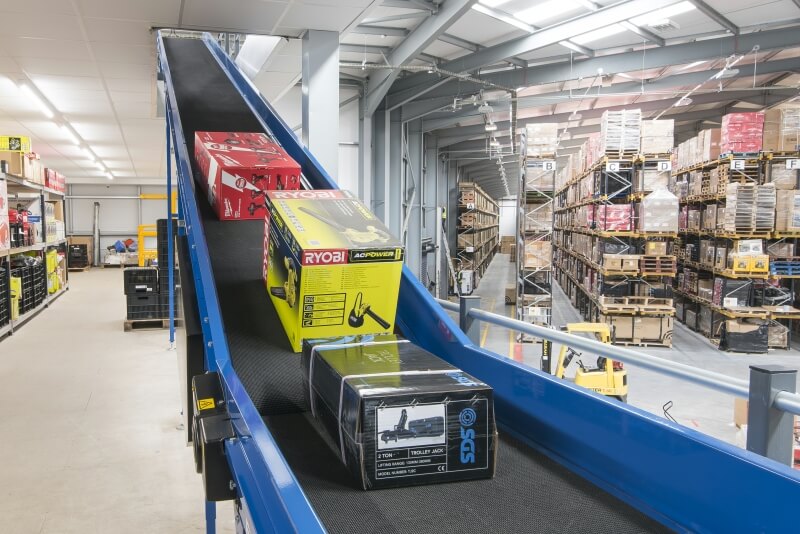 The Brief
To provide a semi-automated conveyor system for picked items across a 2 floor mezzanine structure. The picked goods were required to be delivered to a ground floor packing/despatch area and combine ground floor picked goods alongside the items coming from the above mezzanine floors. The range of products to vary in size and weight and combine both cases and totes on the same system.
One of the main challenges recognised during the design stage was the varying weights and sizes of products.
Our Solution
Conveyor Systems Ltd offered an engineered solution comprising of a combination of our standard powered roller conveyor, decline conveyor belt and an Ambaflex spiral elevator/lowerator, which minimised any impact on available storage space on each floor. As such, the solution hit the project brief whilst also maintaining a competitive integrated package.
The majority of SGS orders were single pick consignments, therefore picking would originate at the product location. Picked items are placed directly onto the roller conveyor by the operator, at the designated loading point. The pick face is spread over 2 mezzanine levels and combined with a ground floor picking operation. As space was non-restrictive along the edge of the mezzanine travelling from Level 2 – Level 1, and coupled with the design of the flow in the same space, CSL utilised a decline conveyor belt to keep the solution within budget. As space at the end of the mezzanine area where product needed to be delivered to the Ground floor was more restrictive, CSL decided to use the space efficient AmbaFlex spiral, to overcome this issue.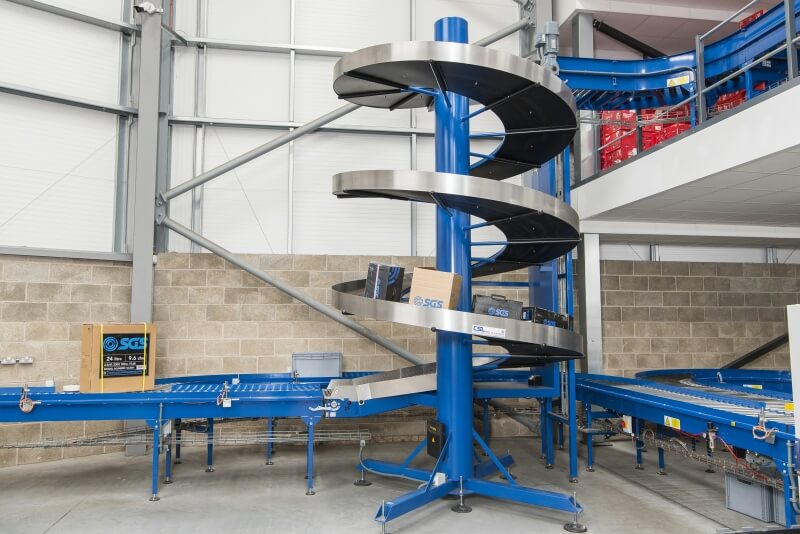 The Ground floor operation comprises of 2 picking points which are located at different opposite ends of the pick face. Both ground floor picking roller conveyors merge together, utilising a double width chain transfer, before then merging with the product exiting the spiral outfeed. The PLC "polices" both merge points to ensure smooth and controlled merges occur.
A simple feed system with powered roller conveyor delivers products to the pack benches, where packed goods are palletised prior to being despatched.
A spokesperson from SGS commented "the new CSL conveyor system had meant moving products safely between floors and picking areas has streamlined our dispatch operation and also provides cost saving benefits"
Visit SGS Engineering website – click here

Need advice on the best solution for your project?
Call us to discuss your requirements, we're always on hand to help.
+44 (0)1283 55 22 55