Turnkey production line conveyor and mezzanine floor
A leading high-volume metal component supplier to the construction industry turned to CSL to provide the automation know-how for a conveyor system for two new production lines which coincided with a doubling of the factory size due to a large increase in orders.
The Brief
To provide empty cardboard boxes from an automatic case erector on a first floor, down to the packing personnel on the ground floor. The filled boxes are to be sealed and fed into a palletiser and through to the despatch area. This was to include a first-floor level mezzanine with access from the factory area and into the existing offices.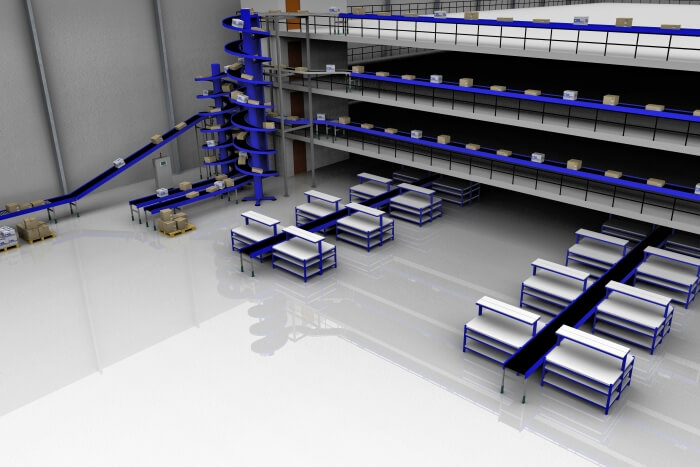 Our Solution
First Floor System
Boxes are erected on the mezzanine via an automatic box erector and manually stacked to over 1.8metres high before accumulating/indexing on a conveyor with 15 separate drive zones of 24v motorised rollers so each zone holds one stack of boxes giving 150 boxes being accumulated for each of the two lines eliminating product crush and provide controlled singulation.
To keep the conveyor footprint on each floor to a minimum, each of the two lines incorporated a Qimarox MK1 vertical elevator with an integral conveyor and full guarding. The MK1 elevators accepted one stack from the buffer area on the 1st floor mezzanine and transferred it down to their respective packing personnel on the ground floor.
Ground Floor System
The stacks of empty boxes are discharged out of the Qimarox in the opposite direction once arriving on the ground floor.
Once full, the heavy-duty cardboard boxes which hold 25kg of product are conveyed primarily on a Lineshaft driven powered roller system which includes 45° spurs and 90° bends, personnel gates, 90-degree chain transfers, ball tables and even mobile conveyor sections.
A CSL pallet de-stacker singulates and feeds one pallet at a time onto a shuttle car with twin conveyors which both accepts full pallets from the palletiser and replaces them with single pallets. Once palletised, the one-ton pallets are indexed for accumulation on a heavy duty powered roller conveyor system prior to feeding an outer door which is interlocked to allow one pallet at a time through for removal to the warehouse.
The Operations Manager for the client reported, "The new system is working excellently with a controlled, orderly flow of cases and pallets along with a noticeable time saving on product packing, which is what we hoped for. The installation has been a big success for us as a business and as for CSL, their attention to detail has been excellent and more than justified choosing them and wouldn't hesitate to work with them again on future projects".

Need advice on the best solution for your project?
Call us to discuss your requirements, we're always on hand to help.
+44 (0)1283 55 22 55