Pukka Pads – Pallet handling/wrapping system
The Pukka Pad Group is a leading global manufacturer of a wide range of high quality branded and own label products including paper pads, notebooks, filing/ divider items, post/ packaging and art/activity products. Established in 1999 by founder Chris Stott, Pukka Pads has grown internationally and now supply Pukka brand and own label products to many countries around the globe.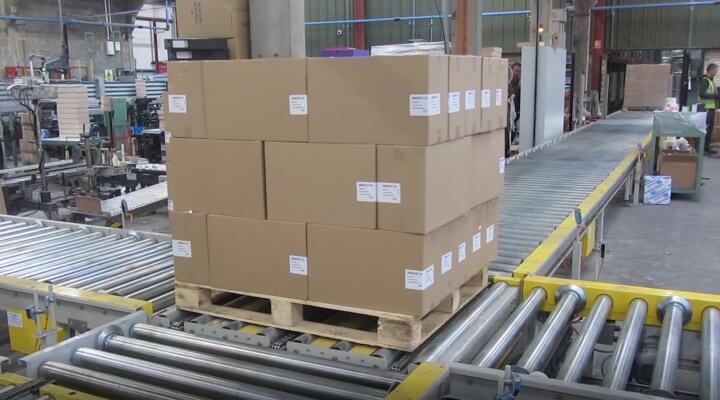 The Brief
As part of their continuing growth, Pukka Pads Group had planned to extend an existing manufacturing site at their Yorkshire Envelopes facility in Bingley.  An adjacent building to the existing manufacturing site was identified as being ideal and refurbished with a view to moving the production into the new area and increasing storage within the existing site.
With the growth and expansion of the site, Pukka concluded that a level of automation was required to improve efficiencies and improve safety and cost by reducing Fork truck movements, as product was moved between the 2 buildings.
Conveyor Systems Ltd was approached to design and supply a fully automated pallet handling system that allowed the operation to continue palletising manually and integrate an automatic takeaway conveyor system.  The solution had to incorporate both an automatic pallet stretch film wrapper, also supplied by CSL, which was capable of wrapping 40 pallets per hour and 5 palletising points, whilst keeping the design as compact as possible.
CSL worked closely with Pukka Pads to understand their exact needs, not only for the conveyor/wrapper solution but also any future automated palletising scheme that would need to be integrated into the CSL solution.
Our Solution
CSL considered all the technical and operational requirements and provided a high specification pallet handling conveyor/wrapper solution.  To ensure stability and optimum control, all drives were controlled via inverters mounted in the main control panel which ensured the conveying speeds were ramped up and down when stop/starting.   CSL designed the conveyor system to balance the throughput with effective pallet module lengths up to 5m with one drive, ensuring the number of drives was kept to a minimum.
The entire system was supplied as pallet roller conveyor with 2 x powered triple chain transfer devices, with each one being a centrally positioned transfer accepting a pallet from either side.  The conveyor provided a controlled merging/transfer of pallets from the 5 palletising positions and a controlled index/accumulation through an automatic stretch wrapper, supplied complete with safety fencing and light guards.
CSL continued its ethos with new customer Pukka Pads, by working in partnership with its clients and being flexible to their specific needs and ultimately bringing the project in on schedule and within budget.
Chris Stott, Pukka CEO, said         "From the very outset CSL worked with us to bring a concept to a working scheme. Their ability to work with us through the process, combined with good knowledge and experience, enabled them to deliver an efficient, reliable and cost effective conveyor system without compromise to the quality or design".

Need advice on the best solution for your project?
Call us to discuss your requirements, we're always on hand to help.
+44 (0)1283 55 22 55