Toolbank look to Conveyor Systems to streamline order picking process
Toolbank, one of the UK's leading distributor of hand and powered tools, take pride in the wide range of its stock profile and the high levels of availability and customer service. With increasing sales and a determination to maintain its promise of next day delivery, Toolbank appointed Conveyor Systems Ltd to streamline the labour intensive order picking process and flow of product from stores located on three floor levels, through to packaging and despatch from their NDC at Halesowen.
After considering a number of options that would provide versatility, flexibility and future proofing, CSL presented its system proposals using their latest 3D CAD service that enables the customer to evaluate design concepts in terms of throughputs and product sortation.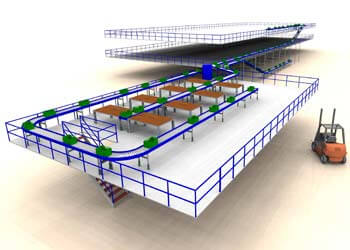 Tote handling conveyor
The new system was designed and manufactured to reduce manual handling, improve efficiency and accuracy of order picking. Increased productivity was achieved by enabling staff to pick and place products directly into tote boxes to be conveyed to a central order consolidation and packing area.
On the upper floor, slower moving items are picked from storage and placed into individual tote boxes. On completion of an order, the tote is placed onto a heavy duty powered roller conveyor that runs along the end of each picking aisle in order to enable the fastest and most efficient batch picking process.
From the upper mezzanine, totes are transported down an inclined belt conveyor onto a powered roller conveyor fitted to the outer edge of the middle floor. This not only saves and optimises on available space but enables totes from both the upper and middle floors to use the same conveyor.
Regular product lines are located on the middle floor, picked to order from storage into tote bins and placed at any point along the whole length of the powered roller conveyor, which runs alongside the outer edge of the mezzanine. CSL designed a specially strengthened framework to support the mid-floor conveyor above the length of a ground floor corridor, whilst ensuring that a clear access is maintained.

Need advice on the best solution for your project?
Call us to discuss your requirements, we're always on hand to help.
+44 (0)1283 55 22 55
From ground floor storage areas, orders are picked and located in totes to be placed on a powered roller conveyor feeding onto a 12m inclined belt conveyor to eventually merge with the middle floor conveyor.
As part of the contract, CSL installed offices and a separate mezzanine to create a separate order consolidation and packing area. The two conveyor lanes carrying completed orders from the three floors are merged into one automatic zero pressure accumulation conveyor, located on the new mezzanine at the same height as the existing middle floor.
Using a drive concept involving 24V motorised rollers with zone sensors to construct the conveyor modules, this provides for a compact, low profile design that is extremely energy-efficient. The individual conveyor zones, which ensure product gapping and easy removal of the tote bines, are automatically fed and only run when there are containers present on the line.
Located on the new mezzanine, the single conveyor lane is flanked by packing tables that can be manned by as many as 16 personnel. Once a tote bin has been removed onto a packing bench, the empty zone signals other totes upstream to index down one position.
Once the order is consolidated and packed, the tote is placed at any point on a conveyor running around the perimeter of the mezzanine to be transported down a compact 3.5 metre high spiral elevator to accumulate at ground floor level for marshalling in the despatch area and re-sorted by van route.
Conveyor Systems Ltd worked closely with Toolbank to agree a programme of specific dates and times to schedule installation and commissioning of the system, thereby keeping disruption to ongoing operations to a minimum.
Phil Corby, Logistics Director for Toolbank reported, "In responding to our enquiry, CSL made an excellent three dimensional presentation of the proposed installation that quickly assured and confirmed that they understood our needs. They met our project criteria to the full, overcoming the possible difficulties of operating on three floor levels. CSL provided an energy efficient scheme including software and user friendly controls that runs and monitors the system to provide increased efficiency and an orderly flow of completed orders. Flexiblity in design enables the system to be evolved to cater for future extensions or to include automated sortation.
This system has been totally reliable and continues to be a proven success at Toolbank. Following the system success at our Halesowen NDC, we are now looking to install a similar system in one of our other major operations around the country."