Unisurge International – Two Floor Clean Room Packing System
About Unisurge International
Unisurge International, established in 1988, stands as a premier manufacturer and supplier of essential medical supplies. These supplies range from dressing packs and surgical instruments to medical disposables, including Personal Protective Equipment (PPE). Unisurge has spent over 30 years delivering products globally from leading manufacturers. They are heavily committed to supporting the NHS through the COVID-19 crisis.
Meeting Growing Demands
Due to their vital role and their clients' escalating needs, Unisurge needed to maintain an extensive stock of products ready for quick pick, pack, and delivery. To meet these demands, they embarked on a significant capital investment programme. The aim was to upgrade their operation with a new single-level mezzanine floor and a more automated picking and packing system, thus increasing production capacity by over 50%.
The Challenge
Unisurge sought to replace the old technology that moved products between production and warehouse areas located on two separate levels. They turned to Conveyor Systems Ltd (CSL) to develop a solution that could increase pick/pack volumes on both floors. The system needed to transport tote bins between a clean room environment on the ground floor and the upper floor level, with the ability to reverse for stock replenishment.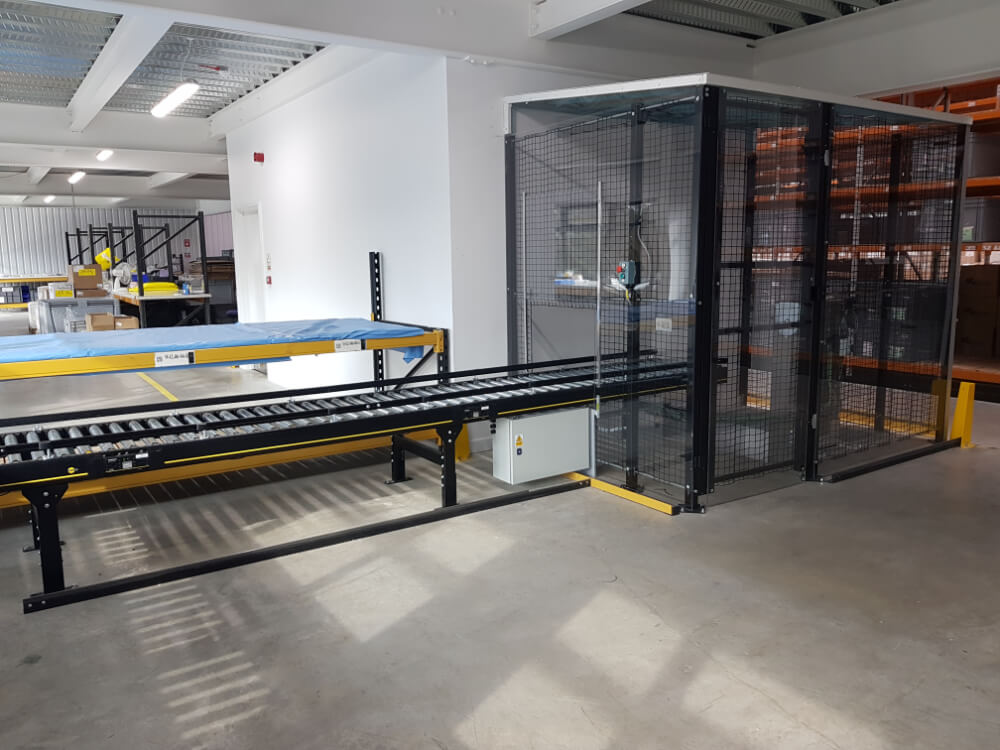 The Automated Solution
Drawing from their considerable experience in multi-floor conveyor and lift solutions, CSL proposed an automated conveyor system. It featured a Qimarox MK1 vertical elevator for connecting the upper floor order picking area with the ground floor clean room. A 24v DC motorised roller non-contact queuing system also worked in tandem, ensuring control and accumulation suited to the client's demands.
System Operation
The intelligent roller conveyor system allowed products to transit, index, and accumulate on demand. This design enabled operators to place the totes onto the conveyor, which then automatically fed to/from the lift. Should the conveyor line become full, the product simply stopped within its own self-contained powered zone until the upstream area was free.
Safety and Control
The system was designed to be fully reversible, facilitating the removal of packed totes and the replenishment of empty totes. A fully interlocked safety fence arrangement around the lift ensured safe entry/exit of the totes. An easy-to-use touch screen HMI provided operational instructions and basic diagnostics.
Feedback from Unisurge Unisurge noted that the new conveyor and elevator system significantly enhanced efficiency in order picking and dispatching, especially for critical surgical products. This improvement meant they could handle higher demands and peaks, while maintaining a compact and space-saving solution. They praised CSL for providing a smooth and professional experience from concept to installation and beyond.
A Unisurge spokesperson commented "… the new conveyor and elevator system makes order picking and dispatching orders much more efficient with faster turnaround times particularly for critical surgical products which means we can deal with higher demands and peaks, whilst also providing a very compact and space saving solution.  We worked closely with CSL on this project and found the process from concept to installation and beyond, a smooth and professional experience".

Need advice on the best solution for your project?
Call us to discuss your requirements, we're always on hand to help.
+44 (0)1283 55 22 55